BE SURE TO CLICK ALL PAGES Tweet
We, the merchant NEVER SEES OR RECEIVES YOUR PAYMENT INFORMATION. All Payment information IS SECURELY PROCESSED and digitally ENCRYPTED BY PAYPAL INC. *** OVER 179 million shoppers check out with PayPal.

Orders within USA PLEASE Allow 3 - 7 business days for delivery *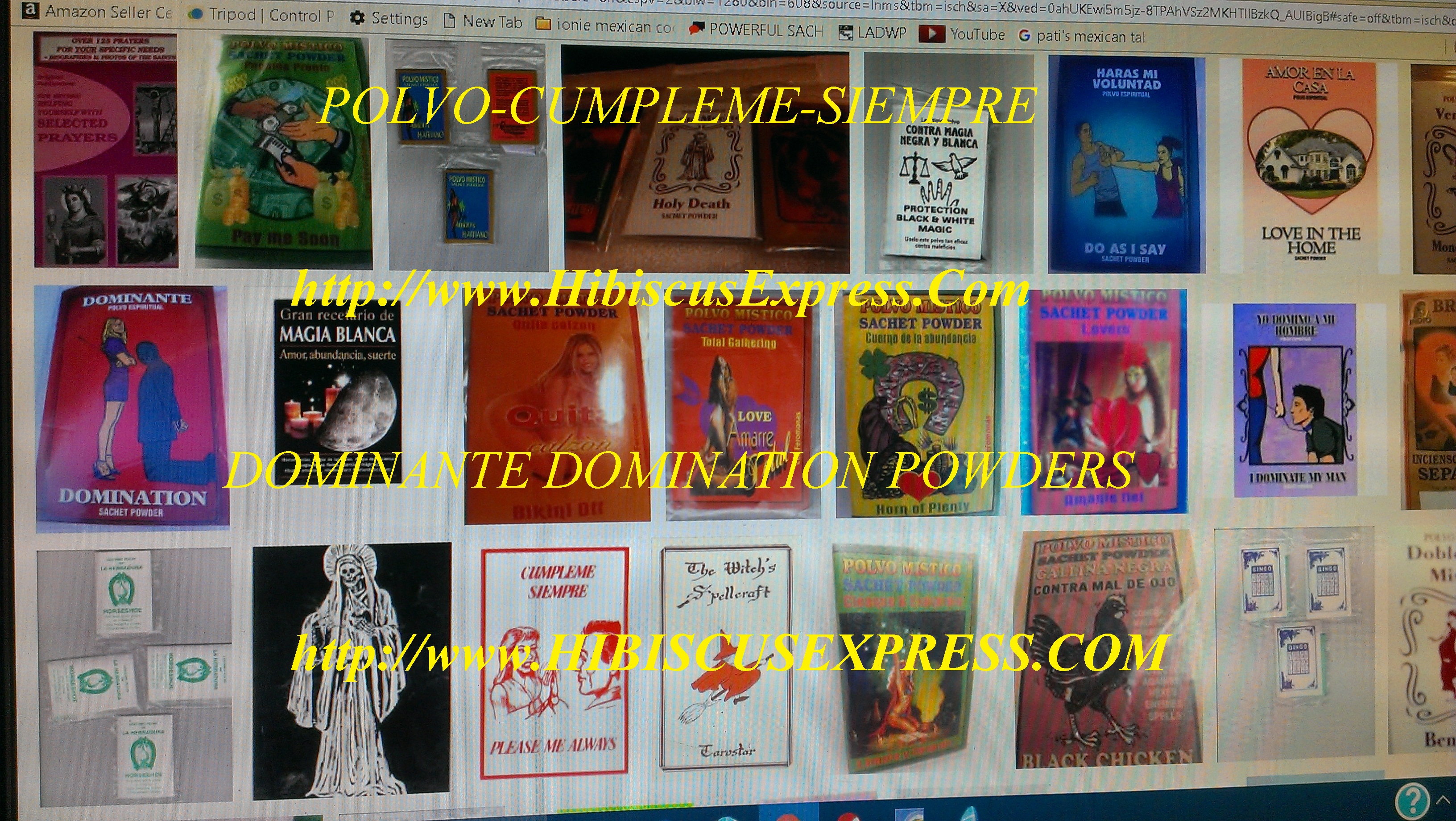 Questions and Inquiry E-mail hibiscusexpress @ Yahoo . Com. (Responses in 2 - 4 hours)
Find & BUY DVDs & Movies Below




$9.99 ||| $19.99 ||| $29.99



CONTACT ||| HOME

$24.99 ... SEITE POTENCIAS POLVO MISTICO 7 POWERS
$24.99 - - SEITE POTENCIAS POLVO MISTICO 7 POWERS - 1/2 oz pkt .. from: http://hibiscusexpress.tripod.com/powders_polvo_espiritual : CHANGO - Poder, Amor y Suerte. OCHUN - Proteccion contra mal. YEMAYA - Magnetisimo y Poder. OBATALA - Enfermedades. ORUBA - Destryue Obstaculos. OGUM - Triunfo, Negocios y Fuego. ELEGUA - Prosperidad y Sabiduria. USELO PARA PROTEGERSE LOS 7 DIAS DE LA SEMANA: Burn one 1/2 oz. bag of incense powder daily for seven consecutive days. 7 African Powers Incense Powder is used to help with love, money, luck, health, protection, power and success. - La verdadera identidad de los siete dioses de África se han reveló. Sus verdaderos nombres y tipos de bebidas espirituosas han sido descubierta. Letra por letra me preguntó el ángel Ariel a través de lecturas cauri cabalística para deletrear los verdaderos nombres de estos siete potencias africanas. La espíritus detrás de estos nombres son más poderosos que nosotros pensar y que han sido adorados desde la primera la civilización de los seres humanos en la tierra, tenga en cuenta que estamos en la actualidad el quinto civilización en la tierra. La nombres de los siete dioses de África se conocen comúnmente como Obatalá, Yemayá, Oshún, Shangó, Elegguá, Ogún, y Oya. Los nombres que estos espíritus utilizar su verdadero camuflaje identidad porque son básicamente los nombres de Nigeria, - sold as a curio only.
Tweet